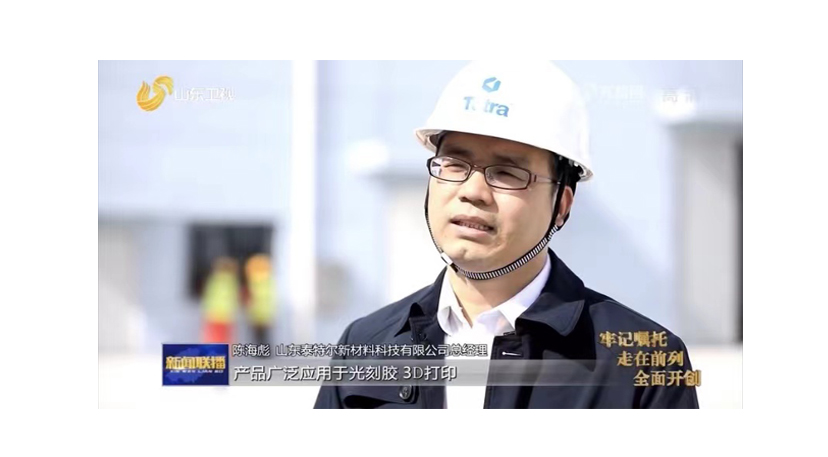 On May 30th , Shandong TV station, with the theme of "keeping in mind that we can start in front of the front line in an all-round way" and "adjacent wall supply" stretching four chemical industry chains, carried out a special report on the special epoxy resin project with an annual output of 9500 tons of Shandong Tetra New Materials Technology Co., Ltd.The products of Tetra are widely used in Photoresist, 3D printing and adhesive, which will help us to break the situation that high-end electronic chemical materials rely heavily on import," Mr. Chen, the GM of Shandong Tetra New Materials Technology Co., Ltd., give us an interview.
Shandong Tetra New Material Technology Co., Ltd. is a wholly-owned subsidiary of Jiangsu Tetra New Material Technology Co., Ltd.The production line of the new project adopts domestic initiative integrated preparation technology in China, with high automation technology, which can effectively reduce manufacturing cost and realize safe, environmental protection and intelligent production. After the second half of the year, the production line will be into operation, Shandong will become the largest special epoxy resin production base in the world.
At present, Dongying Port has formed industrial chains of ethylene, propylene, carbon four and aromatics. The complete industrial chain layout enables Dongying Port to operate green, efficiently and economically through the new industrial layout and the good park policies provided by local government, so as to meet the needs of high-end customers in downstream industries and effectively promote the development of new materials industry. Meanwhile, Tetra has also played a role in accelerating the formation of industrial agglomeration in the park, and achieving win-win results.